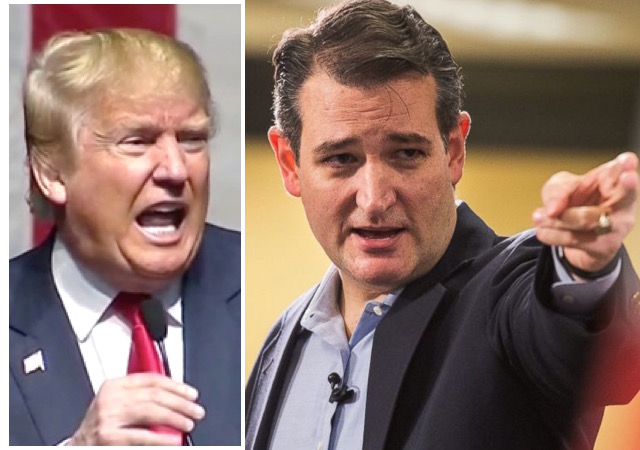 While staying confident that he's going to win Iowa, el Trumpo is now changing campaign tactics after losing in several polls to a surging Ted Cruz.
And this is how he's going to do it:
Trump has been touting how so far he has been able to run a winning campaign without spending anything on political ads, but he wants to make sure he stays in the lead by breaking that pattern.
More from CNN:
After repeatedly boasting that he has spent very little on his campaign so far, Donald Trump is set to begin spending $2 million a week on ads in early primary and caucus states.

Trump told reporters Tuesday that he will begin his first major paid media campaign, which he has refused to do despite large advertising buys from his Republican rivals and the super PACs supporting them, next month. Trump, who has no authorized outside group independently backing him, appears to be finally paying heed to polls that show the GOP race tightening in Iowa.

"When I see a 40, and I see a 12 or a 13 in second, I see no reason to spend," Trump said of some recent national poll numbers on board his campaign plane. "But I feel I should spend. And honestly, I don't want to take any chances."

Trump told the media before his evening rally in Iowa that the $2 million a week would feature messages on border security, trade and protecting the nation from the threat of ISIS. The Republican front-runner said he had seen the first few commercials already.

"My campaign for president is $35,000,000 under budget, I have spent very little (and am in 1st place). Now I will spend big in Iowa/N.H./S.C.," Trump tweeted earlier on Tuesday.
We are about a month away from primary voting in Iowa, so if Trump wants to retake the lead there from Cruz, he needs to get his ads in gear!!
What do you think? Will Trump's new ad campaign help him win in Iowa or is Cruz a lock in that caucus state? Let us know what you think in the comments!!
And if you like the Trumpinator, check out this page with all things about the Donald!! ON the other hand if you like Cruz check out this page for more about Ted!!