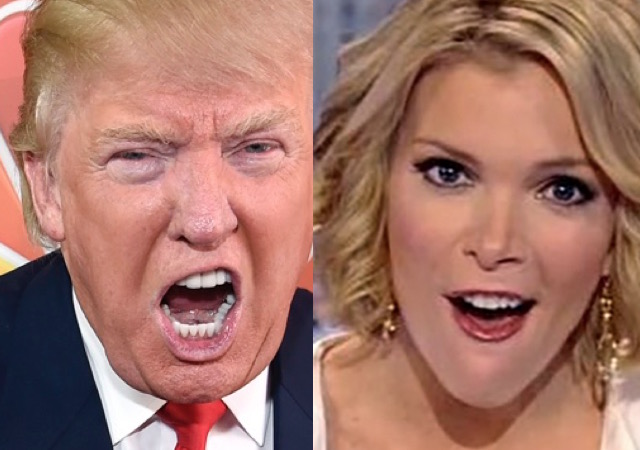 The Trump train has hit a stumbling block after he demanded Fox News get rid of Megyn Kelly as a moderator for the last GOP debate before the Iowa caucus.
The conservative news outlet brazenly REJECTED his demand, and after he threw a tantrum and declared that he wasn't going to appear at the debate, they made a shocking claim about his campaign.
Here's their statement:
As many of our viewers know, FOX News is hosting a sanctioned debate in Des Moines, Iowa on Thursday night, three days before the first votes of the 2016 election are cast in the Iowa Caucus. Donald Trump is refusing to debate seven of his fellow presidential candidates on stage that night, which is near unprecedented.

We're not sure how Iowans are going to feel about him walking away from them at the last minute, but it should be clear to the American public by now that this is rooted in one thing – Megyn Kelly, whom he has viciously attacked since August and has now spent four days demanding be removed from the debate stage.

Capitulating to politicians' ultimatums about a debate moderator violates all journalistic standards, as do threats, including the one leveled by Trump's campaign manager Corey Lewandowski toward Megyn Kelly. In a call on Saturday with a Fox News executive, Lewandowski stated that Megyn had a "rough couple of days after that last debate" and he "would hate to have her go through that again." Lewandowski was warned not to level any more threats, but he continued to do so.

We can't give in to terrorizations toward any of our employees. Trump is still welcome at Thursday night's debate and will be treated fairly, just as he has been during his 132 appearances on FOX News & FOX Business, but he can't dictate the moderators or the questions.
Fox News is literally accusing Trump's campaign manager of "terrorizing" their star anchor, Megyn Kelly, with his threats.
This is just unheard of in American presidential politics, and you can be sure that there's going to be a LOT of fallout from the feud!!
Here's a news report on how the feud has gotten to this explosive point:
WOW!! There are reports that Trump isn't even taking phone calls from Fox president Roger Ailes. Just amazing, especially so near the incredibly important Iowa caucus vote!!
What do you think? Will Trump cave in for the sake of the primary, or will Fox hold the debate without him? Let us know what you think in the comments section below!!
And if you like el Trumpo, check out this page about all things Trump!!