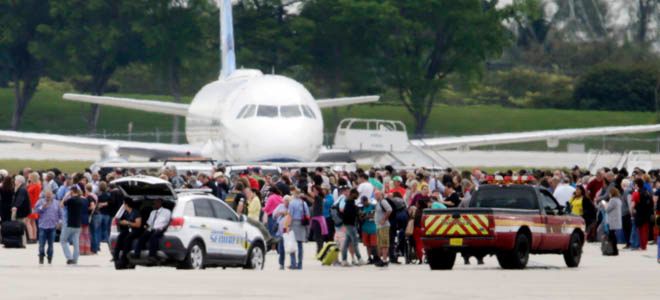 Earlier this afternoon we reported to you that a lone gunman opened fire in the baggage claim of Fort Lauderdale-Hollywood International Airport, killing 5 and injuring an additional 8 people.
We have now learned that the alleged shooter, who is in custody, is a man named Esteban Santiago, and was a passenger on a Canadian flight with a checked bag.
According to Broward County Commissioner Chip LaMarca, "He claimed his bag and took the gun from baggage and went into the bathroom to load it. Came out shooting people in baggage claim."
From Fox News:
Santiago was taken into custody without incident and was unhurt. Law enforcement never fired any shots, Israel said. "This scene is considered fluid and active."

Eight people were rushed to hospitals. The shooting unfolded in Terminal 2, which serves serves Delta Air Lines and Air Canada.

Shots fired at Ft Lauderdale Airport, suspect reportedly in custody pic.twitter.com/o0zVdI91Um

— WSVN 7 News (@wsvn) January 6, 2017

"It was very surreal," John Schlicher, a witness, told Fox News. "He did not say a word." He described the shooter as a slender man with dark hair, likely in his 30s, wearing a Star Wars T-shirt.

"He was shooting people that were down on the ground, too," Schlicher said.

While speaking to Shepard Smith live on Fox News, Schlicher said he heard crews ordering passengers to take cover amid the unconfirmed reports of more shots fired. He spoke over the phone while ducked down on the floor.

The gunman apparently got down on the ground and waited for police to arrive after he ran out of bullets, a witness told CBS News.
Following the shooting, President-elect Donald J. Trump took to Twitter to express his concerns:
Monitoring the terrible situation in Florida. Just spoke to Governor Scott. Thoughts and prayers for all. Stay safe!

— Donald J. Trump (@realDonaldTrump) January 6, 2017
At this time we do not know the motive of this shooter but we will provide you with any new information as they come in!