Seth Meyers, host of the late-night talk show on NBC bearing his name, ripped the Republican party for lacking diversity – and then Ted Cruz stepped in to set him straight.
The Twitter account for Meyers' show posted a meme which began, "President Trump praised the Republican Party in a tweet and said it fights for 'citizens from every background, and from every, race, religion, color and creed.'"
It concluded, "After he tweeted that, even his Twitter avatar couldn't keep a straight face" and included a picture of a smiling Trump.
It's an especially rich effort from Meyers considering we just witnessed a Democrat debate with an all-white ensemble of candidates. Well, to be fair, Elizabeth Warren is only 1023/1024ths white.
The GOP fights for everyone? 😂 pic.twitter.com/slqC4hwSq5

— Late Night with Seth Meyers (@LateNightSeth) January 16, 2020
RELATED: Ted Cruz Just Torpedoed Pelosi For Her Elaborate Impeachment Signing Ceremony
Cruz Sets Him Straight
Senator Ted Cruz (R-TX) decided he couldn't let this one slide and provided a rebuttal focused on actual elections.
"Seth, why is your party's [debate] stage all-white?" Cruz wondered. "Only 78-yr-old socialists need apply? The GOP debate stage was quite different."
Support Conservative Voices!
Sign up to receive the latest political news, insight, and commentary delivered directly to your inbox.
Indeed it was.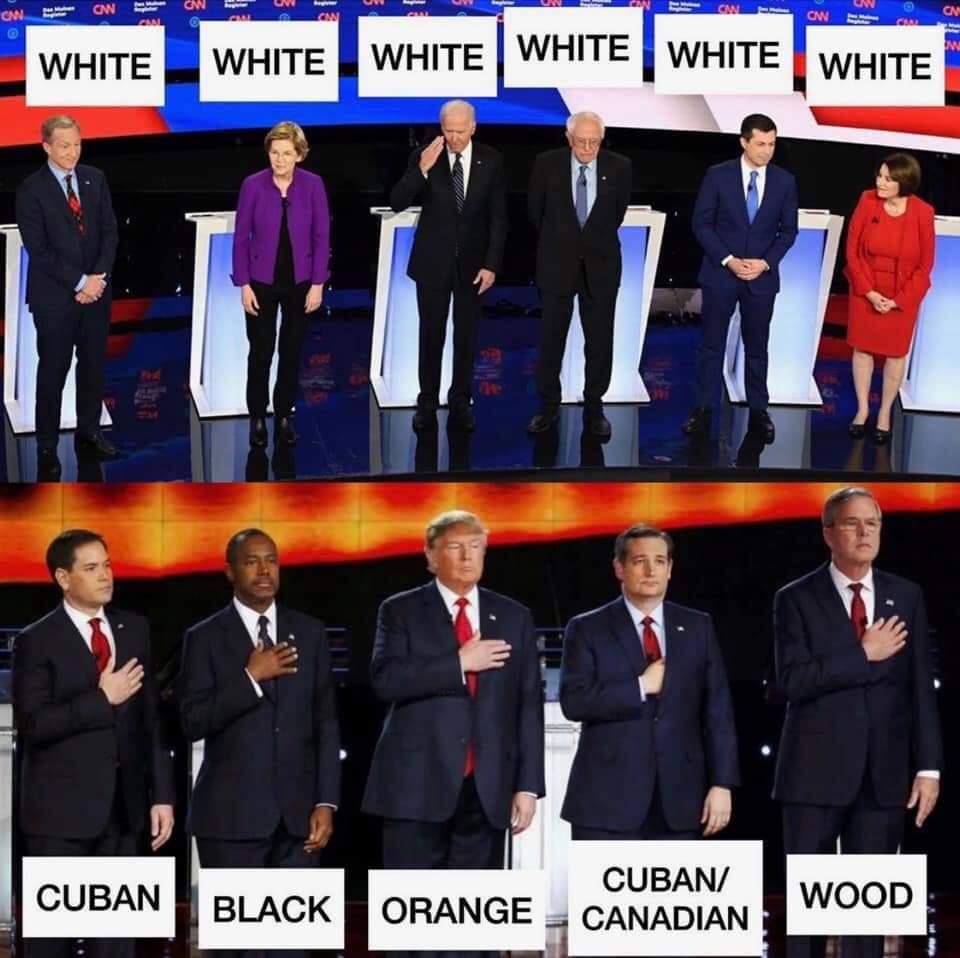 Cruz continued, firing more facts at Meyers.
"Why has no Hispanic won even a single primary state in the history of Dem party?" he asked. "In 2016, Marco [Rubio] won 1 & I won 12–a fact [mainstream media] ignores."
Seth, why is your party's pres stage all-white? Only 78-yr-old socialists need apply? The GOP debate stage was quite different. Why has no Hispanic won even a single primary state in the history of Dem party? (In 2016, Marco won 1 & I won 12–a fact MSM ignores.) #Opportunity4All https://t.co/0uj64l18ac

— Ted Cruz (@tedcruz) January 16, 2020
RELATED: CBS Asks AOC How A Woman of Color Could Back 'Old White Guy' Bernie Sanders
No Diversity Dems
The media has actually picked up on the fact that the Democrat field is strikingly white for a party that touts it's 'diversity.'
"What happened to the Democratic Party of diversity and inclusivity?" a column in USA Today asks.
"Only six Democrats – all white – are facing off [in this past Tuesday's debate], and one of them is likely to take on President Donald Trump in November," they write. "Not an encouraging reality of a presidential primary that began with the most diverse field ever."
"January's debate stage, much like this year's slate of Oscar nominees, is going to be very, very white," a Vox writer jokes.
CBS wanted to know why 'women of color' in the Democrat party were getting behind an old white guy for President.
ICYMI @NikolenDC asked @aoc the money question after she endorsed @BernieSanders:
"As a woman of color, why back an old white guy?" https://t.co/0PMvc6acKq

— Weijia Jiang (@weijia) October 21, 2019
No doubt, Democrats would argue that it is perfectly reasonable to have a white candidate as long as they lift up minority communities.
Which is true, of course. But President Trump has them all beat in that category as well.
CBS reporter Major Garrett, just weeks ago, dropped a bombshell that must have left his colleagues stunned, suggesting even Barack Obama would be envious of President Trump's record with minorities.
CBS News' Major Garrett: President @realDonaldTrump has a policy legacy of helping minority communities that "any president…would want to claim" pic.twitter.com/H4G3JQbJpM

— Steve Guest (@SteveGuest) December 29, 2019
Last year, the President signed an executive order that prioritized Historically Black Colleges and Universities, providing a boost to schools that the Obama administration had neglected.
He's flat-out worked miracles in establishing consistent historically low unemployment numbers in the black, Hispanic, and Asian communities through deregulation and tax cuts.
Under his administration, technical education and vocational studies, programs that are heavily utilized by minorities, have received $1.2 billion in funding.
That, Seth Meyers, is what President Trump means when he says Republicans fight for "citizens from every background, and from every, race, religion, color and creed."