'Shark Tank's' Kevin O'Leary Says $15B 'Stunning Collapse' Of Woke Target Should Serve As Warning To CEOs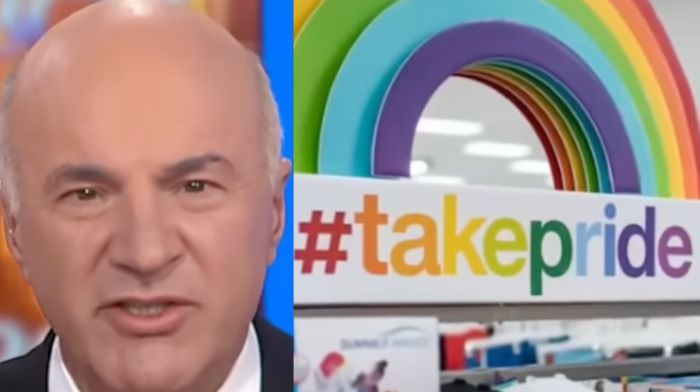 Source: Screenshot YouTube Source: Screenshot YouTube
Kevin O'Leary, who is best known as a star investor on "Shark Tank," is speaking out this week to say that the nearly $15 billion "stunning collapse" of Target in the wake of the brand going woke should serve as a warning to CEOs everywhere.
Target loses $10 Billion in 10 days ?

The retailer has plummeted from a $74.3 Billion market value to $64.2 Billion in the wake of customer boycotts over the Pride Collection featuring 'tuck friendly' swimsuits, LGBT baby wear and design collaborations with a satanist. pic.twitter.com/QXGa98Sftv

— Oli London (@OliLondonTV) May 28, 2023
O'Leary Sounds Off 
After receiving backlash for displaying radical Pride merchandise in stores, Target's market value has plummeted over $13 billion to $60.24 billion as of Monday's closing price. Hours later, O'Leary talked about how this will lead to some massive changes when it comes to corporate America.
"On one hand, companies want to show their support of diversity in all the mandates that society is discussing openly," O'Leary told Fox News. "On the other hand, the job of a business — particularly from the perspective of an investor — and those that are retired, for example, that own the S&P 500 or own Target stock – are concerned that maybe they're losing their way in terms of what the prime objective is: your customers, your employees, and your shareholders."
"And so if you start to get too distant or too far away from the primary mandate, the market has proven itself to really, really punish you," he continued. "And it's woken up all kinds of boards."
? Target's newly released "LGBT Pride" collection includes "tuck-friendly" wear and rainbow-colored onesies, in the same section as pride attire for infants and children, stirring the original controversy. pic.twitter.com/lGGls4PGne

— Upward News (@UpwardNewsHQ) May 23, 2023
Related: Indiana Bar Begs Customers To Come Back After Banning Those Who Slam Bud Light's Dylan Mulvaney Campaign
'A Lot Of Unhappy Cowboys'
O'Leary went on to say that corporate executives often don't think about the power of viral word-of-mouth.
"When you can't control the message anymore through social media, which is clearly obvious, you better figure out what message you're putting out before it ever gets out there," he explained. "We almost need a new committee on boards. We have committees for risk… compensation — We've got compliance committees. We need a communications/media committee to advise the rest of the board who don't even have Twitter accounts or don't have Facebook or don't use LinkedIn."
O'Leary concluded by saying that while diversity officers won't be done away with altogether, they may lose some of the power they've obtained in recent years.
"I don't think you're going to find a lot of people saying, 'oh, let's not have diversity officers'. I think that boat sailed. But what they do with their budgets now really matter and the risks they're putting the company into because of the power of uncontrolled social media is obviously measurable," he said. "When you lose $11 billion of market cap, there're a lot of unhappy cowboys out there. They're called your investors."
WOW @Target hired and paid an outspoken Satanist to design its tuck friendly "women's" swimwear and chest binding children's clothes!

He said on record "Satan is hope, compassion, equality, and love. So, naturally, Satan respects pronouns. He loves all LGBT+ people." ? pic.twitter.com/BcuiA6xHNf

— Luke Rudkowski (@Lukewearechange) May 24, 2023
Related: Kid Rock Opens Fire On Cases Of Bud Light After Brand Names Transgender Influencer Dylan Mulvaney As Poster Girl
Bud Light Scandal
Target isn't the only brand that recently learned the hard way that when you go woke, you also go broke. In the wake of Bud Light featuring the transgender influencer Dylan Mulvaney in an ad campaign, its parent company Anheuser-Busch's stock has lost over $27 billion, according to The New York Post. The conservative commentator and politician Kari Lake responded to this by saying that those on the right "would rather die of thirst than take a sip of Bud Light."
Mediaite reported that Lake also said that conservatives would not "sit by idly" as LGBTQ marketing "is thrown in our faces and thrown in our children's faces."
"This is not an attack on gay men and women in this country, but this whole push for transgenderism, coming at our kids in school, coming at them through culture, coming at them when we go shopping at the Target store, coming at them in advertising…" Lake said. "You know, we'll just shut it all down."
"You know, there might be some who just go for a little while and say, 'Look, I'm going to decide to spend my money in a different place than Target temporarily and eventually I'll go back. We'll just show them how powerful we are when we come together and we say we're not going to spend money with you,'" she added. "But I do believe there will be people who just say, 'No, you are on my list of companies that I won't offer my hard-earned money to anymore.'"
Check out Lake's full comments on this in the video below.
O'Leary is right in saying that CEOs everywhere should take notice of what happens when a brand decides to submit to the woke left. While the woke crowd may have loud voices, there is a silent majority in this country that has had enough of their nonsense, and they have no interest in supporting brands that cater to them.
It remains to be seen if Target and Bud Light will ever be able to recover from this!
Now is the time to support and share the sources you trust.
The Political Insider ranks #3 on Feedspot's "100 Best Political Blogs and Websites."