Michael Avenatti Cries Before Being Sentenced To Two And A Half Years In Prison
Michael Avenatti, the brash one-time anti-Trump darling of the media, cried during a speech before he was sentenced to two and a half years in prison for his attempt to extort Nike.
Avenatti was convicted on charges of trying to extort up to $25 million from the sportswear giant.
The lawyer had threatened Nike with bad publicity while representing a Los Angeles youth basketball league organizer upset the company had ended its league sponsorship, even warning he'd hold a press conference blasting them ahead of their quarterly earnings call.
"Michael Avenatti used illegal and extortionate threats and betrayed one of his clients for the purpose of seeking to obtain millions of dollars for himself," Manhattan U.S. Attorney Audrey Strauss said in a statement.
"Not only did Avenatti attempt to weaponize his law license and celebrity to seek to extort payments for himself, he also defrauded his own client."
.@greggutfeld: "Will @brianstelter or Jeff Zucker visit [Michael Avenatti] in jail?"@JesseBWatters: "Conjugal visit."

???? pic.twitter.com/in7J06RvIF

— Bongino Report (@BonginoReport) July 8, 2021
RELATED: Stormy Daniels' Lawyer Parties It Up With CNN Host and Contributors
Michael Avenatti Cries Before Being Sentenced To Prison
Michael Avenatti rose to prominence representing porn actress Stormy Daniels in lawsuits against former President Donald Trump.
His cockiness made him a frequent guest on left-wing media outlets such as CNN and MSNBC, and his prominent presence led Avenatti to flirt with his own White House run.
That arrogant attitude was nowhere to be found as he delivered remarks prior to sentencing.
Several journalists, according to Fox News, observed that the lawyer was seen crying in court before giving that speech.
Michael Avenatti is crying in the courtroom during his speech before sentencing.

— Jerry Dunleavy (@JerryDunleavy) July 8, 2021
"TV and Twitter, your honor, mean nothing," Avenatti told the judge in his speech.
"Everyone wants to ride in a limo with you, but very few are willing to sit next to you on the bus. Even fewer, your honor, are willing to take your calls from prison."
He added, "I and I alone have destroyed my career, my relationships, my life."
Our old friend Michael Avenatti is about to be sentenced to prison.

Never forget ?
pic.twitter.com/P3W7b9ysXz

— Daily Caller (@DailyCaller) July 8, 2021
RELATED: Hilarious: Jeopardy Champs Have No Idea Who Michael Avenatti Is
The Media's Savior Against Trump
Aside from representing a porn star against the former President of the United States, Michael Avenatti delved into the political world even further by introducing a third alleged victim, Julie Swetnick, during the eventual confirmation of Supreme Court Justice Brett Kavanaugh.
Swetnick made claims that Kavanaugh was present when women were drugged and gang-raped at house parties. But she couldn't get her story straight from the get-go, and the charade quickly fell apart.
For his efforts, Avenatti and his client were referred for a criminal investigation over (allegedly) providing false statements, obstructing congressional investigations, and conspiracy. He said at the time the claims were baseless.
Y'all….why #Trump had to mic drop on #MichaelAvenatti like this? ??pic.twitter.com/c6g1KmK2WV

— Shaughn_A (@Shaughn_A2) July 9, 2021
Avenatti was an almost-daily guest on mainstream media outlets as they viewed him as the best hope to actually bring down Donald Trump during his term as President.
He was even spotted at a "soirée" with anchors and contributors at CNN.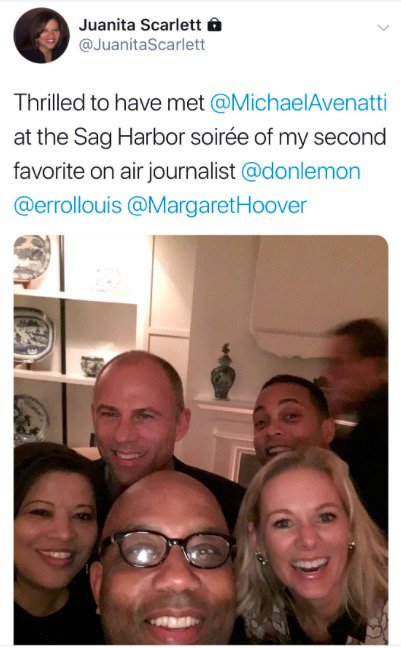 Liberal comedian Bill Maher introduced him as Trump's "worst nightmare" and said he was a "folk hero" to people who believed he could take down the former President.
CNN's Brian Stelter lauded Avenatti, saying he was taking him "seriously as a contender" for the presidency.
Some in the media even labeled him the "savior of the Republic" and likened him to the Holy Spirit.
FLASHBACK:

Ana Navarro to Avenatti:

"You're like the Holy Spirit. You are all places at all times"pic.twitter.com/FwUPhl0jqo

— Daily Caller (@DailyCaller) July 8, 2021
Nike offered little to no sympathy after Michael Avenatti cried during his sentencing.
"The verdict and sentence speak for themselves," the company said in a statement.
Daniels, who would later claim the lawyer had embezzled $300,000 from her in 2018, also took a shot at Avenatti.
"He was a man you wanted to trust and believe in, but the longer I knew him I began witnessing his lies and dishonesty until I realized I too became his victim," Stormy Daniels said in a statement.
"I am sure today he found a reckoning."
Fox News anchor Tucker Carlson played a montage of the media fawning over Daniels' lawyer and quipped, "That was an IQ test and everybody on that tape failed."
Carlson once wrecked Avenatti with his apt description of his being a "creepy porn lawyer."
"We called him the creepy porn lawyer because he was," Carlson said.
Since Michael Avenatti Is Trending Today pic.twitter.com/Bwb0Ndb5Ok

— The Columbia Bugle ?? (@ColumbiaBugle) July 8, 2021
Avenatti still faces an upcoming trial in California on charges he stole nearly $10 million from five clients, and a separate trial there on bankruptcy, bank, and tax fraud charges.
In Manhattan next January, Avenatti will endure another trial for allegedly cheating Daniels out of proceeds from a book contract.
Michael Avenatti has been found guilty on all counts in Nike extortion trial.

Good thing he enjoys handcuffs! pic.twitter.com/cCXcxxMkiE

— Ashley St. Clair ?? (@stclairashley) February 15, 2020
Avenatti once joked during an appearance on 'The View' that "all of my sexual fantasies involve handcuffs."
Now is the time to support and share the sources you trust.
The Political Insider ranks #16 on Feedspot's "Top 70 Conservative Political Blogs, Websites & Influencers in 2021."