Richard Hatch, star of both Battlestar Galactica series has passed away at age 71. According to close friends, Hatch was recently diagnosed with pancreatic cancer. Unfortunately, pancreatic cancer is itself usually a death sentence.
Fans and co-stars have reacted to the news:
Goodbye my friend. See you on the other side. Fuck this hurts. #SoSayWeAll pic.twitter.com/c3nFy0zs4f

— Katee Sackhoff (@kateesackhoff) February 7, 2017
Richard Hatch was a good man, a gracious man, and a consummate professional. His passing is a heavy blow to the entire BSG family.

— Ronald D. Moore (@RonDMoore) February 7, 2017
I was fortunate to meet Richard Hatch briefly on two occasions. Always gracious and truly thankful for his association with BSG. RIP

— Bob AKA Robert (@BobTrek) February 8, 2017
Rest in peace, sweet Richard. #RichardHatch pic.twitter.com/XYScT50tV9

— Noelle Hannibal (@NoelleHannibal) February 8, 2017
…Richard Hatch (@thumbfighter) was the first celebrity/actor I've met in Hollywood, and even got me to audition for his BSG reboot.

— Tony T.L. Young (@pacificinvasion) February 8, 2017
RIP Richard Hatch #SoSayWeAll pic.twitter.com/VFfUp6vaiS

— David Leavitt (@David_Leavitt) February 8, 2017
Rest with the galactic stars, Richard Hatch. https://t.co/o1J42dxtaT

— George Takei (@GeorgeTakei) February 8, 2017
Even the other Richard Hatch (of Survivor fame) paid tribute:
@people Such a gentleman… We spoke about our misdirected fan mail. Lovely conversation. My thoughts are with Richard's family & friends.

— Richard Hatch (@HatchRichard) February 8, 2017
For me, my memories of Richard Hatch are as the terrorist-turned politician-turned-terrorist Tom Zarek on the re-imagined Battlestar Galactica series that aired starting in 2003.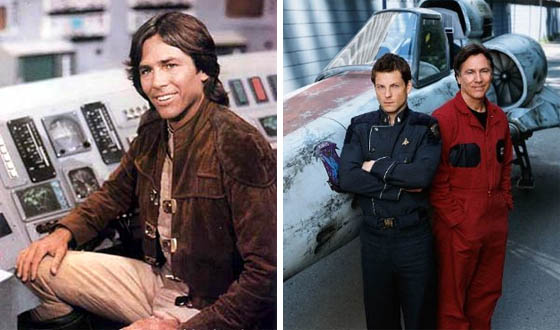 He didn't shy away from the fame that came from the two cult series, either. Hatch was always appearing at festivals and conventions and ready and eager to answer fan questions about the beloved shows. He was a great advocate for the legacy of both shows. He is in the pantheon of great Sci-Fi actors.
We will miss you Richard. So Say We All.