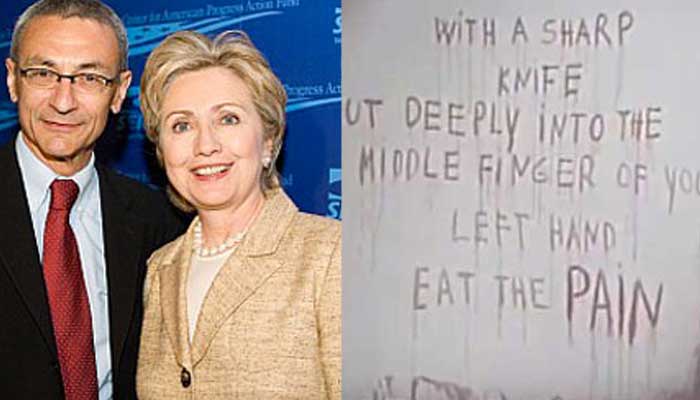 A new WikiLeaks email bombshell from Hillary Clinton's 2016 campaign chairman John Podesta shows an invitation from an invite from his brother to a "Spirit Cooking dinner" at the home of Marina Abramovic, an "artist" in New York City.
Released in 1996, the "Spirit Cooking with Essential Aphrodisiac Recipes," written by Abramovic, had ingredients such as "Fresh best milk with fresh sperm milk" to be consumed during "earthquake nights."
The email from Tony Podetsa to John said, "Are you in NYC Thursday July 9 Marina wants you to come to dinner Mary?"
Abramovic said in a June 25 email, "Dear Tony, I am so looking forward to the Spirit Cooking dinner at my place. Do you think you will be able to let me know if your brother is joining? All my love, Marina."
Abramovic, a well-known artist, had her memoir reviewed by The New York Times recently.
The Podestas' "Spirit Cooking" dinner?
It's not what you think.
It's blood, sperm and breastmilk.
But mostly blood.https://t.co/gGPWFS3B2H pic.twitter.com/I43KiiraDh

— WikiLeaks (@wikileaks) November 4, 2016
The #Podestas' dinner "cook" Marina Abramovic on #SpiritCooking https://t.co/A1S4VrTRcW

Context: https://t.co/zQf0ZrbnWn pic.twitter.com/QF3WU2Y9or

— WikiLeaks (@wikileaks) November 4, 2016
Here is the shocking video (Warning: Disturbing material, not suitable for children)
What do you think about Hillary Clinton's campaign chairman involved in such a disgusting event? Please leave us a comment (below) and tell us.