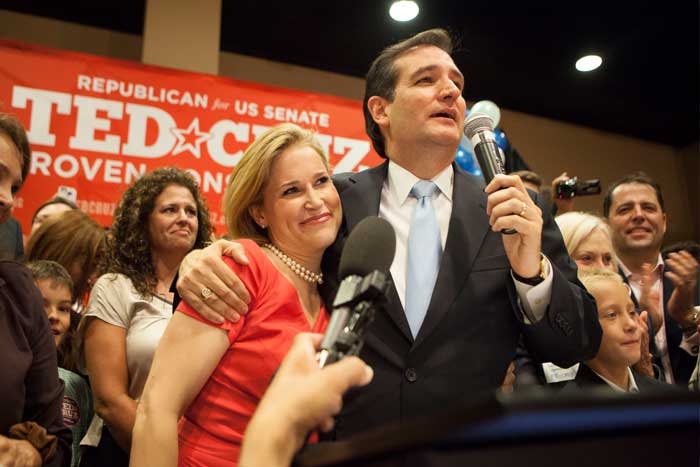 Senator Ted Cruz (R-Texas) has been perhaps the most vocal proponent of core conservative principles in recent memory. He fought President Barack Obama every step of the way on Obamacare and amnesty. And he was willing to risk government shut downs to stand up for limited government, despite cries of outrage from the Washington political establishment.
Now, Cruz's closest friends who know him best (including his former college roommate) are joining him by forming an independent Super PAC, which is a MAJOR sign of him running for President in 2016!
The 'Stand for Principle' PAC filed papers with the Federal Election Commission on Friday, and the organization's founder says it will be the go-to financial behemoth supporting the Texas senator in 2016.

Super PACs can raise unlimited amounts of money as long as they don't coordinate their activities with political campaigns.

The emergence of a funding stream set up by Cruz supporter Maria Strollo Zack signals that the tea party firebrand is laying the groundwork for an announcement – and Zack plans to raise a ton of money.

'We'd like to be $50 million by the end of March 2016, going into Super Tuesday,' she told MailOnline on Wednesday.[…]

While Cruz can't legally partner with Zack, his close lifelong friend David Panton gave the project a nod and will be its most visible volunteer.

A source close to the Stand for Principle PAC's formation told MailOnline that Panton, a Jamaican Rhodes Scholar who once roomed with Cruz at Princeton, chose the name.

Zack, the PAC's chairwoman, is a Georgia business development executive who said her firm's primary purpose is to help startup companies get off the ground.

That firm, The Strollo Group, also has a small government affairs arm that lobbies in Georgia.

The new political vehicle, she said, is the first effort supporting Cruz to get off the ground, and will enjoy the support of his closest friends and allies, mostly on the Republican Party's right wing.
via the Daily Daily
Maria Strollo Zack said the reason they are starting this organization is because "America craves, thirsts and hungers for strong, bold, principled conservative leadership."
This is very exciting news, as unlike many "draft" PACs, this is as close as any Republican candidate has come to launching a real Presidential campaign. Cruz's friends wouldn't be starting this PAC if he wasn't seriously ready to run.
If that Cruz news wasn't exciting enough, reporter Dave Catanese spotted Team Cruz looking for Presidential campaign office space!
Sen. Ted Cruz has deployed advisers to begin scoping out office space for a potential 2016 presidential campaign, a source with knowledge of the move tells U.S. News.

Over the past several weeks, aides to the first-term GOP senator from Texas have been looking for available real estate in Houston, where Cruz lives with his wife and two daughters.
Clearly, with so many conservative Republicans spending the past few elections holding their nose on election day… this time they may have a no-nonsense conservative to vote for! Cruz is apparently running for President, and nothing- not even Hillary Clinton – can stand in his way.
Do you think Ted Cruz would be a better President than Barack Obama? Please leave us a comment and tell us what you think.