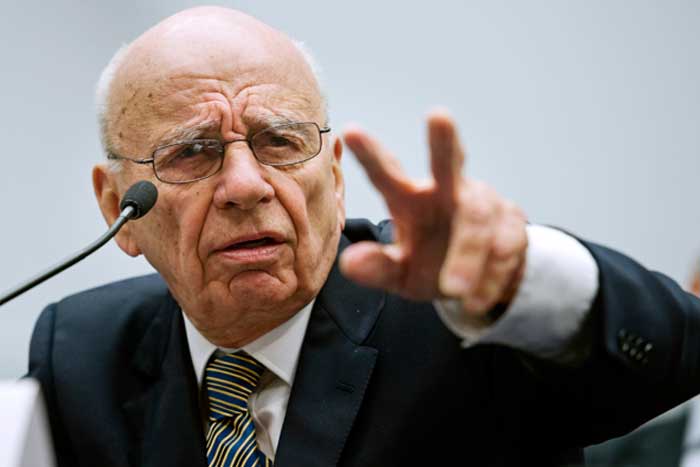 Conservative billionaire Donald Trump has taken a bold stance against unfair treatment by Fox News… and has pulled out of Thursday night's Fox News debate.
Trump believes Megyn Kelly's biased questions are not professional and that she's a bad reporter.
But instead of trying to work out an agreement, Fox News responded harshly. Why?
A bombshell new report claims it's because of Fox News' founder's deep connections to the open borders lobby. Murdoch is the co-chair of a powerful pro-amnesty organization – Partnership for a New American Economy (PNAE) – which is the strongest lobby for illegal aliens in America.
As Breitbart reported:
Murdoch's support of open borders immigration policies has been identified as a potential conflict of interest for years. As ABC reported in 2013:

Murdoch, Australian born and a naturalized U.S. citizen, has become an outspoken advocate for immigration reform and mass legalization of the country's undocumented immigrants, partnering with New York City Mayor Michael Bloomberg in this cause. Whether Murdoch's personal views will percolate through his network, or at least temper criticism on the airwaves of those who don't share it, remains to be seen.

In 2013, during the Rubio-Schumer Gang of Eight push, Mickey Kaus similarly pointed out:

In 2007, John McCain's "comprehensive" immigrant-legalization bill failed after opponents flooded the Senate with calls, shutting down the switchboard… It won't be that easy this time… The GOP donor class is asserting itself… One of the more influential members of this "donorist" class is Rupert Murdoch, which means that FOX News has for all intents and purposes switched sides, giving immigration "comprehensivists" a monopoly in the MSM–five networks to none.

Indeed, Murdoch has himself expressed his support for large-scale immigration. In a 2014 op-ed published in the Wall Street Journal's open borders opinion pages, titled, "Immigration Reform Can't Wait," Murdoch wrote:

When I learned that House Majority Leader Eric Cantor had lost his Republican primary, my heart sank. Not simply because I think he is an intelligent and talented member of Congress, or because I worry about the future of the Republican Party. Like others who want comprehensive immigration reform, I worried that Mr. Cantor's loss would be misconstrued and make Congress reluctant to tackle this urgent need. That would be the wrong lesson and an undesirable national consequence of this single, local election result.
If true, this means Donald Trump just exposed a secret agenda at Fox News to campaign for open borders and weaker immigration laws. Only someone with Trump's powerful communication skills could expose what elites are doing at America's most popular cable news network.
Clearly, Fox News is more interested in promoting the agenda of the elites than having the high ratings Trump would bring them in a nationally televised GOP debate. This explains a lot!
What do you think about Fox News' pro-amnesty agenda? Please leave us a comment (below) and tell us what you think.