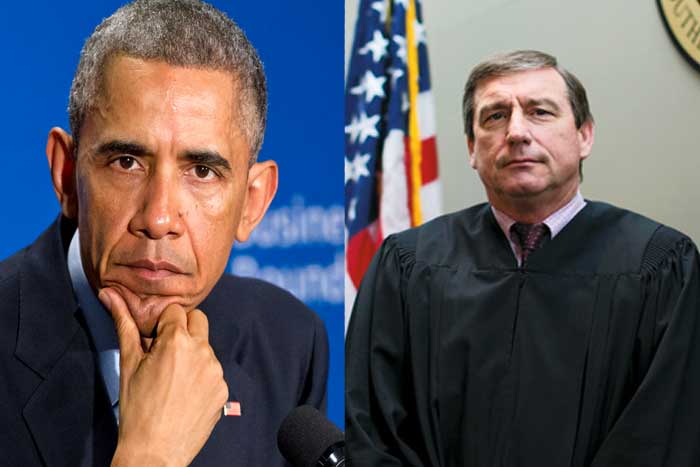 It wasn't long ago that Judge Andrew Hanen in Texas blocked President Barack Obama's unconstitutional executive orders to grant amnesty to 5 million illegals. Now, he is making a move that is sure to make Obama's White House lawyers nervous.
Obama's team is being ordered to explain how they probably lied about the implementation of special rights and privileges to more than 100,000 illegals. This one Federal judge is taking a bold move against a tyrannical President!
U.S. District Judge Andrew Hanen ordered Monday that the lawyers for the federal government appear in his court March 19 in Brownsville. The hearing is in response to a filing last week in which the government acknowledged three-year deportation reprieves were granted before Hanen's Feb. 16 injunction, which temporarily halted Obama's action, sparing from deportation as many as 5 million people in the U.S. illegally.

The Justice Department said in court documents that federal officials had given 100,000 people three-year reprieves from deportation and granted them work permits under the 2012 Deferred Action for Childhood Arrivals program, known as DACA, which was not halted by Hanen's injunction. But the 2012 program guidelines provided just two-year deportation reprieves and work permits.

Obama's new immigration action would expand that to three years, and Justice Department attorneys had previously said federal officials wouldn't accept requests under an expansion of DACA until Feb. 18.

A coalition of 26 states suing to stop President Barack Obama's executive action on immigration alleges the government misled the judge about not implementing part of the plan before the judge temporarily halted it.
via AP
America already has plenty of immigration laws on the books, and it's not up to the Executive to make up his own rules. Finally, the judicial branch is catching up to Obama's criminal behavior.
Do you support Judge Hansen's bold move against Obama's amnesty? Please leave us a message and tell us what you think!