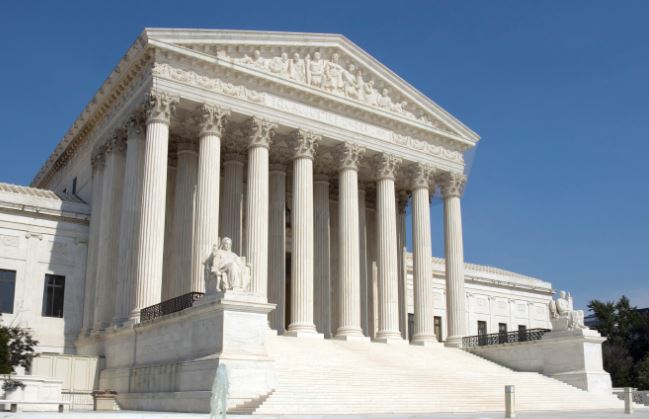 The high court unanimously sided with Senate Republicans and limited President Obama's power to fill high-level vacancies with temporary assignments when the Senate is in recess.
The Supreme Court agreed that the Senate was not in recess, holding that it's up to both houses of Congress to define when they're in session or in recess.
SCOTUS delivered the blow ruling that the President violated the Constitution when filling slots on the National Labor Relations Board in 2012.
"Because the Senate was in session during its pro forma sessions, the president made the recess appointments before us during a break too short to count as recess," Justice Stephen Breyer said. "For that reason, the appointments are invalid." He was joined by Justices Anthony Kennedy, Ruth Bader Ginsburg, Sonia Sotomayor and Elena Kagan.
Politico reports:
The decision gives the Senate broad power to thwart future recess appointments, but did not go as far as some conservatives hoped to undercut the president's ability to fill vacant executive branch posts and judicial slots.
For now, at least in this one area, the President's power has been scaled back. The watch is on for what's next.
Score one for limited government! SCOTUS tells Obama to bugger off on illegal recess appointments.

— Matt Cover (@MattCover) June 26, 2014
That's why Obama's appointments were so outrageous. Breyer didn't have to go far to find they flouted the Constitution.

— Dan McLaughlin (@baseballcrank) June 26, 2014
It's cool that SCOTUS poo-pooed Obama's appointments but I'll wait until they're fired to celebrate.

— Johnny D (@yaycapitalism) June 26, 2014
'Wait'll Obama reads the paper tomorrow': Supreme Court rules WH's recess appointments unconstitutional http://t.co/C3jfpm6kzm

— TwitchyTeam (@TwitchyTeam) June 26, 2014
Here are some reactions from leading conservatives:
Carrie Severino, chief counsel to the Judicial Crisis Network on Recess Appointment decision: "Today the Supreme Court unanimously rebuked the Obama Administration for its lawlessness. Although Noel Canning won the court case, the real victory goes to the Constitution's separation of powers. The recess appointments clause was never intended to give the President the ability to make appointments while the Senate was on a lunch break. By striking down these appointments, the Supreme Court delivered a much-needed bench-slap to the Obama Administration's contempt for the Constitution. Although the Court was unanimous in striking down these lawless appointments, five justices still voted for a broad and troubling interpretation of the Recess Appointments power. The next president may appoint as many as three Supreme Court justices, so the American people should be thinking carefully about whether the next president will appoint judges who are committed to shoring up our constitutional checks and balances."

Karen Harned, Executive Director of NFIB's Small Business Legal Center on Recess Appointment decision: "This case was never just about recess appointments. Ultimately, the case was about affirming the bedrock principle that this is a nation of limited government, where no one man can wield too great a power over our lives and livelihoods. When President Obama appointed three members to the NLRB he blatantly circumvented the Congressional appointment process and overstepped his constitutional authority. The President and NLRB's actions have caused employers and employees uncertainty and unpredictability. These illegal appointments have played key roles in several of NLRB's highly controversial policy decisions, such as the 'ambush election rule' and the 'Notice Poster Rule.'"