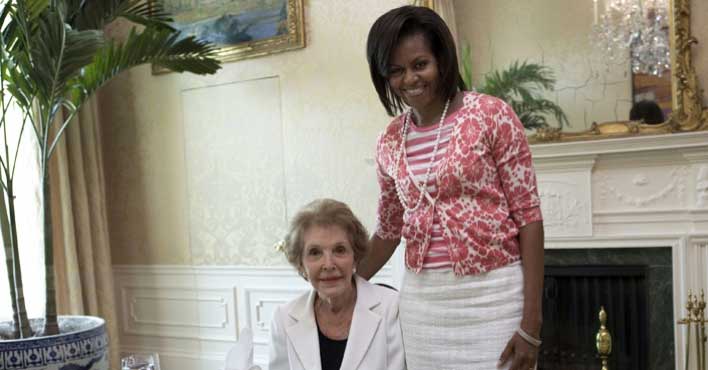 Sadly, Former First Lady Nancy Reagan, President Ronald Reagan's wife, has died at the age of 94. Afterward, President Barack Obama announced he would be skipping her funeral to party at South by Southwest festival in Texas.
First Lady Michelle Obama will be at the services, and what she just said about Nancy is disgraceful!
According to People Magazine, Michelle is busy focusing the spotlight on herself.
"I just wanted to briefly express my sadness over the passing of former first lady Nancy Reagan. On a personal note, Mrs. Reagan also understood the value of mentoring. She warmly and willingly offered advice and encouragement to me as I settled in to my role as first lady, and I am so grateful for her kindness and generosity to me and my family over the years."
Then, she added:
"Mrs. Reagan was a woman of incredible strength and grace and she was a passionate advocate for so many important issues," Michelle added. "For the example she set both during her time in the White House and beyond. Mrs. Reagan reminded us of the importance of women's leadership at every level of society."
Then problem here is, Michelle can only memorize Nancy Reagan in terms of what has made Michelle "great." It's as if she's claiming that Nancy Reagan made it possible for her to promote healthy living through heavy-handed lunch control rules and multi-million dollar taxpayer-funded vacations all over the world.
Michelle shouldn't try to compare herself to Nancy Reagan. The Reagans were 100% class, while Michelle Obama disgraces America on a daily basis. Nancy Reagan was a conservative who supported defending the unborn, as a true Feminist. While Nancy Reagan was trying to help keep millions of young Americans off drugs, Michelle was busy writing college papers about much she hated this country.
Michelle Obama, you should be ashamed.
What do you think about Michelle Obama's comments about Nancy Reagan? Please leave us a comment (below) and tell us.