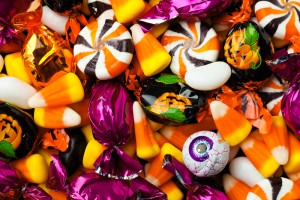 Michelle Obama's lunch-control rules are too extreme, as children and their parents are finding out on Halloween. Thanks to Federal mandates, the Philadelphia Veterans Affairs office just announced that it would hold a Halloween parade on Friday for children of VA employees, but they warned employees not to hand out any candy or sweets to children.
Instead, the VA said the day care center in the office has "joined First Lady Michelle Obama's Let's Move Program," which means the kids should be given things other than candy:
"Please help us teach our children to make healthy food choices!!" the VA said in an email to employees.

"If you would like to hand out treats during the parade, please give healthy snacks such as pretzels, raisins, granola bars and sliced apples," it said. "NO CANDY PLEASE!"

"You may want to consider gifts such as pencils, crayons and rings instead of snacks," it added.
Via The Blaze
This isn't a unique story as Michelle Obama's rules have already banned tic tacs and birthday cakes in schools.
Even though the Constitution grants no powers to the First Lady, Michelle Obama is determined to force her excessively restrictive food policies on children… Even as they are outside celebrating Halloween.
This should be a time for communities to come together and share their best costumes with each other while passing out candy. It's a long-standing American tradition, which is why Michelle opposes it so strongly.
Do you think children should be allowed to enjoy candy at Halloween? Please leave us a comment and tell us what you think.