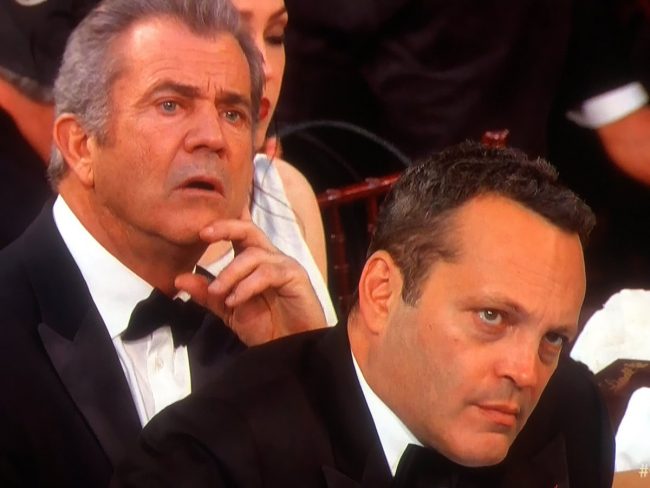 As celebrities continue to LOSE it over Trump, it is nice to see some Hollywood elite are having NONE of it.
During the Golden Globe Awards, liberals couldn't hold back their glee as far-left actress Meryl Streep took to the stage to viciously attack President-elect Donald J. Trump.
Well, while most of Hollywood was likely cheering on Streep's anti-Trump tirade, two members of the audience did not enjoy her comments.
Here's video of them reacting to Streep:
The reactions of the night award goes to #MelGibson and #VinceVaughn #GoldenGlobes pic.twitter.com/YzdvAJUoej

— Andrew Autio (@AndrewAutio) January 9, 2017
Mel Gibson and Vince Vaughn are both conservatives, a rarity on the liberal bastion of Hollywood, and both appear visibly disturbed when Streep went on a rant against our next president.
Predictably, viewers noticed Gibson and Vaughn's facial expression and took to Twitter to express their observations:
The Conservative table was not feeling Meryl's speech. #GoldenGlobes pic.twitter.com/zdxDFhCZ1r

— Jillian🙅🏻Sederholm (@JillianSed) January 9, 2017
I feel the same way about Meryl's speech, guys. 😂 #VinceVaughn #MelGibson #MerylStreep #GoldenGlobes pic.twitter.com/lezp5TSTKm

— Morgan (@mlm927) January 9, 2017
And playing the role of Twitter tonight is Mel Gibson and Vince Vaughn pic.twitter.com/7m9BZwBVUt

— Clemzingis (@TheClemReport) January 9, 2017
After the event, Trump took to Twitter to call out Streep, calling her a "Hillary lover" and an overrated actress.
H/T: Young Cons
Are you as disgusted with Meryl's attack on President-elect Trump as Vaughn and Gibson were? Share your thoughts below!