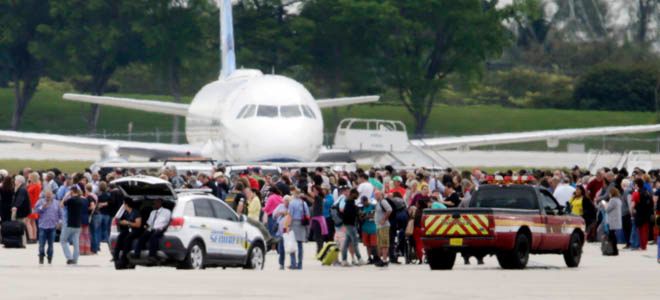 We've learned shocking new details about the man who killed at least 5 people in a rampage at the Ft. Lauderdale International Airport in Florida.
The man has been identified as Esteban Santiago and is a veteran of Hispanic decent.
But what has authorities puzzled is this shocking revelation about the man's possible connection to radical Islamic terror.
NEW: In Nov. 2016, FLL suspect walked into FBI office in Anchorage, claiming he was being forced to fight for ISIS, sources tell CBS News.

— CBS News (@CBSNews) January 6, 2017
Sound familiar? Similar to the terrorist who killed 49 at the Pulse night club, Santiago was right in the hands of the FBI, and they let him slip away.
More via Fox on his interaction with the FBI in November:
The visit took place last November. The sources said Santiago told agents that US intelligence had infiltrated his mind and were forcing him to watch ISIS propaganda videos.

"In November 2016, Esteban Santiago walked into the Anchorage FBI Field Office to report that his mind was being controlled by a U.S. intelligence agency," a senior federal law enforcement official said.
Clearly this man had both radical tendencies and serious mental health issues. Why did the FBI think it was OK for him to be released back into the public without any sort of evaluation or monitoring?
And this wasn't some recent fascination, he's been engaging in radical Islamist thought for nearly a DECADE!
#UPDATE via #iAWACS Ft Lauderdale shooter was posting on Jihadi forums when he was 17yrs old in 2007 – Now closed twitter acct @Esteban00903 pic.twitter.com/h17HK3mOzb

— JΞSTΞR ✪ ΔCTUAL³³º¹ (@th3j35t3r) January 6, 2017
How many more of these incidents have to happen before we get SERIOUS about confronting home-grown radical jihadists? This man LITERALLY told the FBI he was planning to become a terrorist, and they let him just slip away. This is unacceptable.
Share your thoughts on this story in the comment section below!