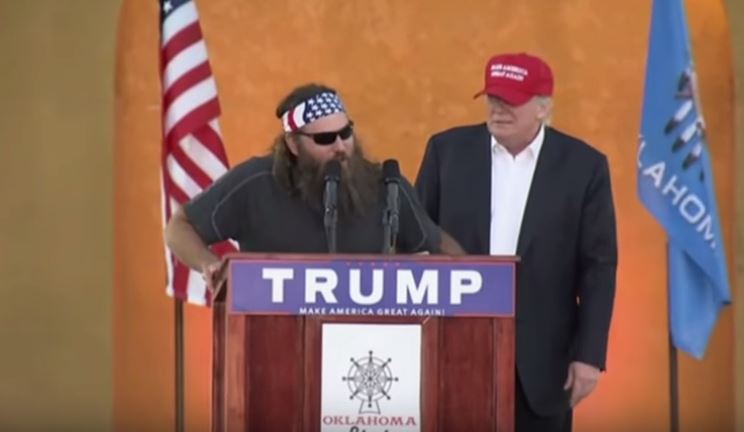 It was just a few short months ago that Willie Roberston, star of Duck Dynasty and devout Christian, placed his support firmly behind Louisiana Governor Bobby Jindal for president.
Calling him an "honest," "great," and "Godly man," Robertson said that the family would "definitely be trying to help him out."
That is, until he was hit with Trumpmania.
"I do like me some Trump," Robertson confessed, before laying out a litany of similarities he sees between himself and the real estate mogul.
via Mediaite:
Duck Dynasty star Willie Robertson endorsed Bobby Jindal for president back in April, but this past weekend he appeared at a Donald Trump rally and says he likes The Donald now.

Jindal has been a fan of the Louisiana-based show (and even a guest star), and he backed up Phil Robertson after A&E temporarily suspended him, so earlier this year the younger Robertson said that he and his wife would be "firmly behind" Jindal were he to enter the race.

But when Robertson appeared at a Trump rally on Friday (and took the stage upon Trump's invitation), he said, "I do like me some Trump, I've gotta admit. Here's the deal. We're both successful businessmen. We both have pretty big shows on television. We both have wives that are 1,000 times better looking than us so I like Trump."
Check out Willie's appearance at the Trump rally below …
To be sure, Robertson was not rescinding support for Jindal in any way. He was simply speaking positively of another candidate.
Robertson previously expressed support for Trump even as he endorsed Jindal, saying "I love Trump. How can you not love Trump?"
Who do you think the Robertson family should get behind during this campaign?
For all of you Jindal supporters, check out this page dedicated to everything Bobby Jindal.
Looking to support Trump?  Check out this page dedicated to everything Donald Trump.