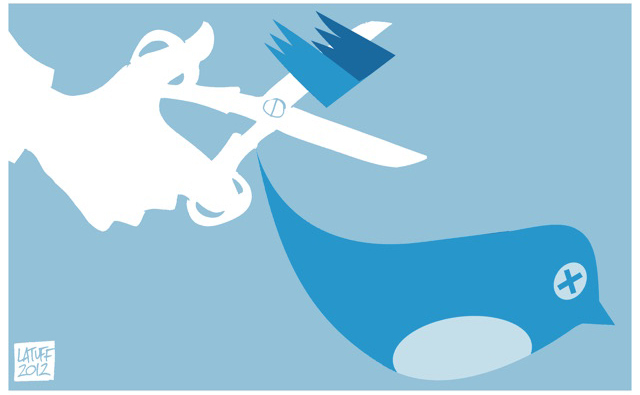 A few weeks after Twitter announced that they had put together a committee in order to stop "bullying" on their social media platform, conservatives are being banned for simply disagreeing with others. Conservatives dominate Twitter, so "progressives" have been planning to silence them for a long time.
And because of that, many are choosing to just leave it altogether.
if you want to see my content you'll just have to go to my site. i'm not providing it to Twitter any longer @KetchupDoritos @instapundit

— The Scandalous DJT (@AceofSpadesHQ) February 22, 2016
Hi @Twitter: Fire @jack and disband the 'Trust and Safety' Council.

Here's why:https://t.co/TwHxVGr429

— Adam Baldwin (@AdamBaldwin) February 22, 2016
Twitter, you are fucking up big time. Alienating conservative/libertarian users is no way to grow. @jack @gov https://t.co/wnWvil7Q4r

— Michelle Malkin (@michellemalkin) February 22, 2016
Just the three above conservative accounts have more than 1,200,000 followers between them, but they are by no means the only ones who are angry about what Twitter is beginning to do.
Here's Twitter's announcement from a few weeks back:
That's why we are announcing the formation of the Twitter Trust & Safety Council, a new and foundational part of our strategy to ensure that people feel safe expressing themselves on Twitter.

As we develop products, policies, and programs, our Trust & Safety Council will help us tap into the expertise and input of organizations at the intersection of these issues more efficiently and quickly.

We have more than 40 organizations and experts from 13 regions joining as inaugural members of the Council. We are thrilled to work with these organizations to ensure that we are enabling everyone, everywhere to express themselves with confidence on Twitter.
The "Trust and Safety Council" sounds like a nice and innocent group – until you find out that it's stacked with feminists and other liberals.
So it's no surprise that one of their victims is Stacy McCain, an anti-feminist conservative who had run-ins with one of the feminists on the council.
Coincidence, right?
I don't always agree with @rsmccain, but he doesn't deserve to be in #Twitmo, @twitter. #FreeStacy

— Ed Morrissey (@EdMorrissey) February 22, 2016
Seriously, @twitter @safety, if you can't explain why you banned @rsmccain & @SexTroubleBook, we'll have to assume the worst #FreeStacy

— Aaron Worthing (@AaronWorthing) February 22, 2016
Follow @rsmcain at @SexTroubleBook since @Twitter decided his political views needed to be censored and banned him.

— Kurt Schlichter (@KurtSchlichter) February 20, 2016
.@twitter I don't even like @rsmccain & I'm still appalled by your Soviet treatment of him. Grow up, @jack. #FreeStacy

— SFK (@stephenkruiser) February 20, 2016
Let my tweople go. #freestacy@Twitter @Support @TwitterIR @policy @jack @rsmccain

— Prudence Paine (@PruPaine) February 20, 2016
Hi @Support, I would like to report @Twitter for both triggering and violating a safe space by arbitrarily suspending @rsmccain. #FreeStacy

— Dan O'Donnell (@DanODradio) February 20, 2016
And that's why so many conservatives are looking for alternatives to the social media platform – because they see more random banning of conservatives coming.
In a presidential election year! Another big coincidence.
But let's not get paranoid!! I mean it's not like the government has looked into banning conservatives on social media before… oh wait…
What do you think? Should all conservatives abandon Twitter for another social media platform? Let us know in the comments section below!