The Anti-Trump crowd is fighting a losing battle. America has spoken. They elected Trump, and they want him to lead. His policies are receiving broad support, and the economy is already reacting positively.
The enemies of President Donald Trump have failed at convincing America that he is unfit to lead.
So they are doing what comes naturally to people who don't get their way, vandalizing golf courses and yelling at people in Apple Stores.
But as this cartoon points out, don't expect them to take responsibility for their actions anytime soon.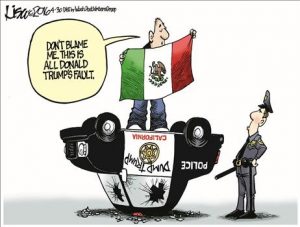 Of course, they are playing the "victim" card. It isn't their fault! If Donald Trump didn't say those "hateful" things, they wouldn't be forced to harass and pillage!
I think regardless of what you think of The Donald, being destructive and disruptive is no way to get your message across!
LIKE this page for the latest TRUMP news.
Have leftist protesters gone too far? Share your thoughts in the comments below.