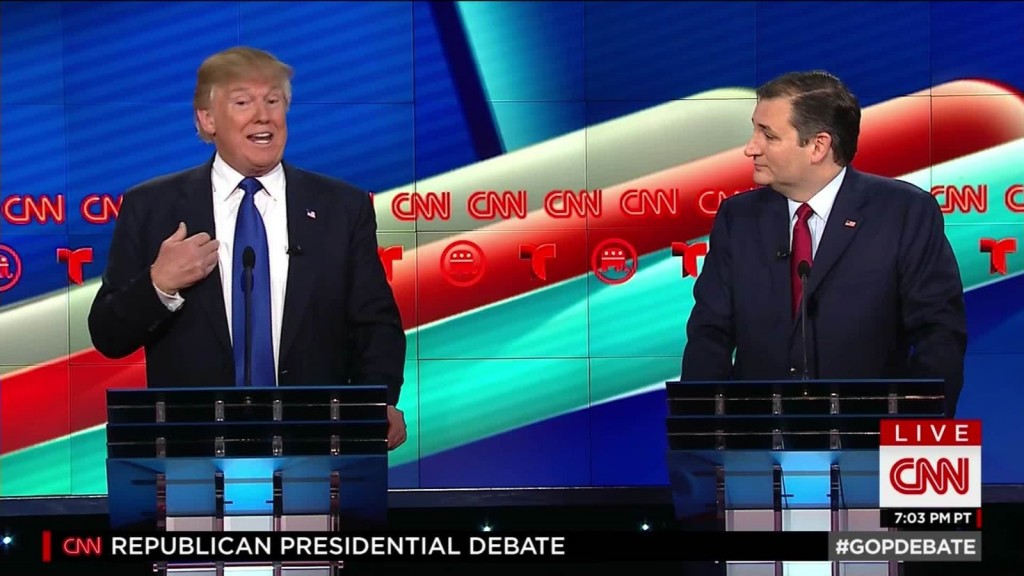 Last night's CNN debate is the last time voters across the country will see the leading Republican candidates face off before the Super Tuesday primary elections.
So far, Donald Trump's lead in the delegate count for the convention in Cleveland is so historic that he's beyond where past GOP nominees Mitt Romney and Senator John McCain (R-AZ) were at this point in their presidential campaigns.
If you watched, you saw Senators Marco Rubio (R-FL) and Ted Cruz (R-TX) throw some massive punches at conservative businessman Donald Trump. They were fighting for the political life, as Trump is almost completely assured of being the GOP nominee.
Marco Rubio was set with a number of scripted one-liners, including a joke about how Trump – if not for his inheritance – would be selling knockoff watches in Manhattan right now. His campaign website store immediately started to sell the "Trump Watch."
Then, he tried to imitate Trump the best he could:
.@MarcoRubio just gave his best @realDonaldTrump impression at the #GOPDebate https://t.co/Bm8z8Kcw1e

— Mashable (@mashable) February 26, 2016
But all the arguing with Trump doesn't matter. Trump clearly explained his plans to stop illegal immigration, and defended attacks on his personal wealth. The other candidates tried their best, but nothing fazed Trump.
That's why according to Google Search Trends, Trump is the winner of CNN's Republican Debate!
As you can see from this chart, searches for Trump (in blue) dominate Rubio (in Red) and Cruz (in Yellow). As voters start paying attention to this race, Trump is taking all the oxygen out of the news cycle. The other candidates are left in the dust: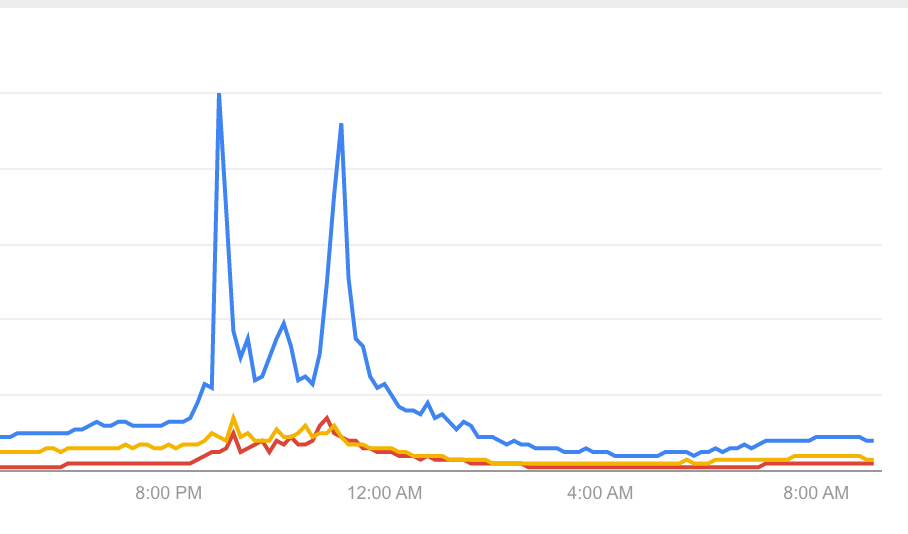 Via Google Trends
And on a larger scale, Trump won because of his bold message about just what he's doing for the Republican Party. His impact is so great that he – as the nominee – would bring in a new, diverse group of voters into the party for a generation. Here is what Trump said last night:
But one thing I'm also going to do, I'm going to be getting — bringing a lot of people in who are Democrats, who are independents, and you're seeing that with the polls, because if you look at anywhere, look at any of the elections, every single election, it has been record-setting.

And the good news is, for the Republican Party, the Democrats are getting very poor numbers in terms of bringing them in. We're getting record-setting numbers. I think I have something to do with that.

We're getting record-setting numbers. And I won every one — the three of them that I won, I won with record-setting numbers.

New people are coming into the Republican Party. We are building a new Republican Party, a lot of new people are coming in. …

But I'm telling you also, I'm bringing people, Democrats over and I'm bringing independents over, and we're building a much bigger, much stronger Republican Party.
If that's not winning, I don't know what is. It means Trump has been running a general election from the beginning, and that's why he does better in states that allow non-traditional voters to take part in Republican Party primaries.
Trump is singlehandedly expanding the Republican Party!
Trump also got in his own punches, like this strong hit against Ted Cruz:
Donald Trump won the CNN debate, and will most likely face off against Hillary Clinton in the general election. This has the political establishment and Republican leaders scared.
Do you agree that Trump won the debate last night? Please leave us a comment (below) and tell us!