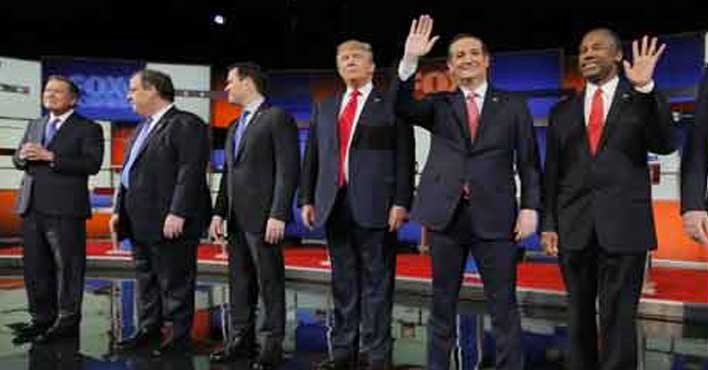 In a shocking move, Armstrong Williams, who is Dr. Ben Carson's closest political advisor, dropped hints exclusively with Breitbart News that Carson will drop out immediately after the Super Tuesday Primary.
The stunning revelation came during an interview with host Stephen Bannon, after Williams attacked the rest of the GOP field for "dirty tricks" and using "scorched earth tactics" against an honorable man.
This is a political earthquake, as the GOP establishment tries to figure out how to defeat conservative businessman Donald J. Trump:
"While we're heading to Super Tuesday next week, I think as I've said in an op-ed I've written recently, he had some tough choices to make. There's no question… You have to admit, you see the handwriting on the wall," Williams said. "It's more than just the bottom line that he's not doing well. He just feels he's going to stay in the race until he decides — not the media, not the political establishment, and not his adversaries — for him to drop out.

"Listen, that time will come. There's no doubt about that. But it will be Dr. Carson's decision and his alone. And that may happen between now, and March second," Williams said, referring to the day after the Super Tuesday primaries. "But still, that will be his decision… When he does make that decision, will be with joy. It will be with pride. It will be with no regrets."
Armstrong concluded:
"[Dr. Ben Carson] will comes to the conclusion that it's time to move on. And that will happen sooner rather than later."
The audio of the full interview is available here:
With a poor showing in the Nevada GOP caucus and declining poll numbers, Dr. Carson is left with limited staff and resources. With only $4 million in the bank, he will quickly be reminded that it costs roughly $3 million/week just to stay on air in Senator Marco Rubio's home state of Florida alone.
Campaigns are costly, and it's clear the end is near for Dr. Carson.
What do you think about Armstrong Williams' comments? Please leave us a comment (below) and tell us.