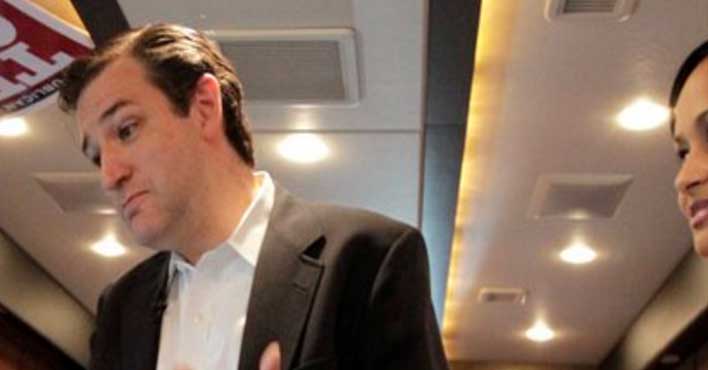 Political insiders and operatives on Twitter are buzzing about new rumors concerning Senator Ted Cruz (R-TX). This news comes just after the 12th Republican debate which was hosted on CNN, and days before key primaries in Florida and Ohio.
The Stop Trump PAC has been hinting at a major news bombshell for days. But apparently, the supposed news has less to do about Trump than it does about Cruz!
The buzz focuses on Cruz and Tea Party activist Katrina Pierson. Pierson is a former consultant for Cruz's United States Senate campaign and is now the national spokeswoman for businessman Donald Trump's presidential campaign, which makes this a particularly uncomfortable situation.
What do you think is going on here? WOW!
Anyone else get a Clinton / Lewinsky vibe here? Just askin' questions. pic.twitter.com/Wrf94GXPr8

— RBe (@RBPundit) March 2, 2016
@RBPundit It isn't a joke. Ask your Texas friends or Politico.

— #NeverTrump LA Woman (@BettinaVLA) March 2, 2016
Of all the people Trump could have picked as a national spokeswoman, he chose Katrina Pierson. Why?

— RBe (@RBPundit) March 8, 2016
I wish I had control of The Thing https://t.co/sQXqQ9xNGa

— Rick Wilson (@TheRickWilson) March 11, 2016
@TheRickWilson @Orpi35 Trump spokesperson and Cruz???

— Kim Hopper (@talk1776) March 11, 2016
Ted Cruz talks about Katrina Pierson…aww so sweet…https://t.co/1i3Fz5iacq

— Erica B (@Rikki5582) March 11, 2016
Traveling down memory lane on a late Thursday night. pic.twitter.com/7NZ0avzszv

— Stop Trump PAC (@StopTrumpPAC) March 11, 2016
@StopTrumpPAC 😏 pic.twitter.com/bvkyTmCEQA

— Team Marco West PA (@TeamMarcoWestPA) March 11, 2016
Oh my my…..cruz and his mistress Katrina Pierson, teddy did you really think you could sweep this under the carpet https://t.co/9T67CH5HHV

— Conservative Gal (@lheyn55) March 11, 2016
People's personal lives should always be their own business. But American Presidents can open themselves up to serious legal problems and blackmail by having affairs. Clearly, whatever is going on here needs to be discussed BEFORE the Republican convention in Cleveland, Ohio.
There are serious questions about Senator Marco Rubio (R-FL) – (see here, here, and here) – but this is the first I've seen of Cruz rumors.
But what's REALLY going on here? This is serious Twitter buzz but details are yet to break.
Please leave us a comment (below) and tell us what you think!