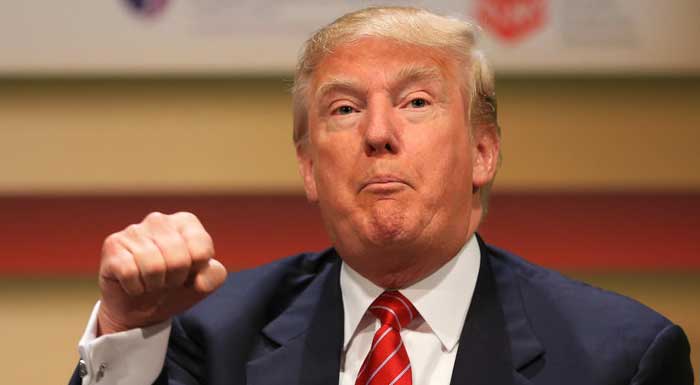 Conservative businessman Donald J. Trump continues to soar in all national polls after his historic win in the South Carolina primary. Trump has a majority of the presidential delegates that have been available to candidates so far.
With well-funded former Florida Governor Jeb Bush dropping out, we're approaching the time where if the political establishment wants to defeat Trump, they have to make their move NOW!
For months, there was speculation about Senator Ted Cruz (R-TX) becoming Trump's VP running mate. But with so many dirty tricks and questions about Cruz's standing as an American citizen, that has mostly been ruled out.
Now, there is heavy speculation among political insiders that Ohio Governor John Kasich is only staying in the race to help Trump, before announcing he's Trump's running mate!
As conservative radio host Erik Erickson announced:
Rumors starting to circulate that Kasich thinks staying in gets him Trump veep pick by holding back others.

— Erick Erickson (@EWErickson) February 21, 2016
As National Review recently explained, Trump has been complimentary of Kasich in previous debates and they have a lot of common ground. In fact, Trump may be closer to Kasich than any other candidate:
Given that Kasich agrees with Trump on China — one of Trump's signature issues — Trump's compliment could be interpreted as a sign that he will consider Kasich as his potential running mate. Such a ticket might act as a marriage between a brazen outsider and a member of the GOP establishment. A Trump/Kasich ticket could even end up being a truce signaling that party peace is at hand. Perhaps.

When I mentioned a Trump/Kasich ticket to a well-known veteran Republican campaign strategist who thus far has been anti-Trump, his response was "Vedddy interesting. Like it."

Looking for another opinion, I asked a Trump-leaning national GOP consultant who said emphatically, "That ticket will defeat Hillary." Then, on the record, longtime GOP operative Roger Stone said he liked the idea and told me, "Kasich carrying Ohio for the ticket is more likely than Rubio carrying Florida."

Besides bringing about a marriage of party factions, here is what Kasich would bring to a Trump ticket. Kasich is a popular incumbent two-term governor of Ohio, a state that, historically, every Republican presidential candidate has won on his path to a White House. An added plus for Kasich is that the Republican National Convention will be held in Cleveland this year. Kasich has all the traditional presidential experience. He served in Congress for 18 years, including membership on the House Armed Services Committee, earning him national-security credentials. In 1985 he became chairman of the House Budget Committee, where he was chief architect of the Balanced Budget Act of 1997.

In 2010 Kasich was elected Ohio's governor, and he was reelected in 2014 with 63.8 percent of the vote. Under Kasich's leadership, Ohio's economy has rebounded, and he uses the state's success story as part of his presidential platform.
They agree on many issues and Kasich has a different style that can win over certain Republican demographics too. His standing as a governor who just easily won re-election in a key swing-state for the general election means Kasich is likely the choice.
Here's Trump in his own words on what he's looking for in a VP:

What do you think about a potential Trump/Kasich ticket in 2016? Please leave us a comment (below) and tell us what you think.