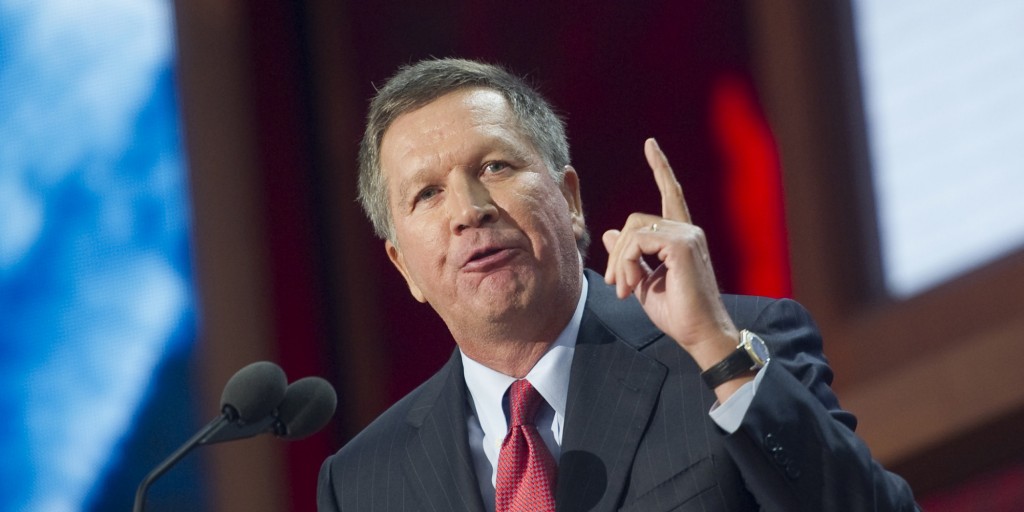 The Republican establishment is working tirelessly today to get the Republican primary down to a two-candidate race, in hopes of a last minute battle with conservative businessman Donald J. Trump. Big names such as former Republican presidential nominee Mitt Romney have called Ohio Governor John Kasich to demand he step aside.
Now, for the first time, Kasich is finally admitting publicly that after Super Tuesday, there will definitely be only two candidates left, especially in the likely event that Kasich loses in the Buckeye State. This is his way of admitting that his campaign is just hours away from shutting down.
Here is how ABC News reported it. This is a big deal!
As an increasing number of establishment Republicans coalesce around one of his rivals for the Republican nomination for president, Ohio Gov. John Kasich has set his sights on March 15, a day when his campaign argues that the GOP field will be narrowed to just two contenders.

That day, Kasich aims to finish first in Ohio's GOP primary, becoming just the second person not named Donald Trump to win a statewide GOP nominating race — unless Ted Cruz places first in his home state of Texas on Tuesday. That same Tuesday, his campaign expects fellow candidate Sen. Marco Rubio, who has drawn the support of more and more elected GOP figures, to flounder in his home state of Florida.

"It's on the 15th of March when this race narrows down, when Marco Rubio loses Florida and we win Ohio," Kasich's chief strategist, John Weaver, told ABC News. After that, he said, Kasich, who has faced calls for him to drop out, could beat Trump in a two-person race.

A Quinnipiac University poll of Florida voters released Thursday showed Rubio in second place with 28 percent of the vote, far behind Trump's 44 percent. A Quinnipiac poll of Ohio voters that was released Tuesday showed Kasich in second place with 26 percent support, trailing Trump by 5 percent.
H/T: Headline Politics
The Republican Party never warmed up to Kasich's abrasive and moderate style. Once a champion of balanced budgets during the Gingrich revolution, Kasich has embraced Obamacare for Ohio and is the most moderate candidate in the race. It isn't clear why he thought this strategy would work in a Republican primary, but it did not.
With this race down to Trump and Senators Marco Rubio (R-FL) and Ted Cruz, Super Tuesday will be the defining moment in a race that looks like it's already over. If true, then it's clear that the establishment didn't move quickly enough to take on Trump.
Here's Kasich himself complaining about how this race is shaping up:
What do you think about John Kasich's big announcement? Please leave us a comment (below) and tell us!