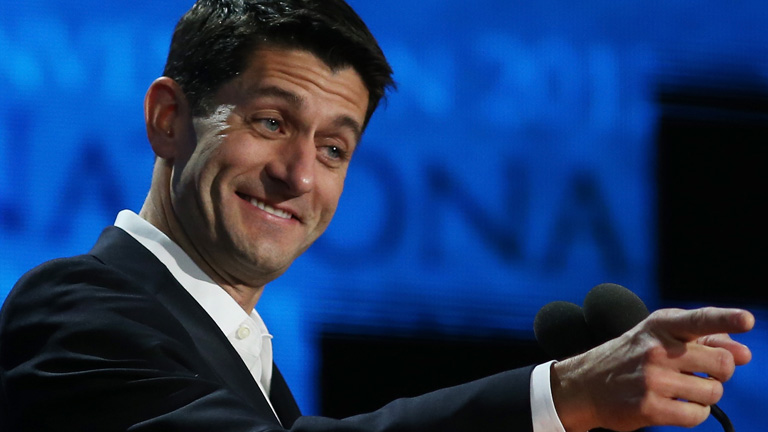 Former House Speaker John Boehner (R-OH), who still has a taxpayer-funded office and staff in Washington, D.C., is speaking out today after the Super Tuesday results and has a shocking announcement!
With the departure of Senator Marco Rubio (R-FL) from the GOP presidential race, Boehner officially endorsed current House Speaker Paul Ryan (R-WI) for President.
This is a clear indication that Ryan is a likely candidate that could take on conservative businessman Donald Trump during a brokered convention in Cleveland, which seems increasingly likely after Trump's loss in the Buckeye State to Governor John Kasich.
As Boehner told Politico:
Former House Speaker John Boehner Wednesday endorsed current House Speaker Paul Ryan to be the Republican presidential nominee.

At the Republican convention, "anybody can be nominated," Boehner said at a conference in Boca Raton, Fla.

"If we don't have a nominee who can win on the first ballot, I'm for none of the above," Boehner said. "They all had a chance to win. None of them won. So I'm for none of the above. I'm for Paul Ryan to be our nominee."

Over the last few months, Boehner has privately said that he thought Ryan would be a good candidate to heal a fractured party. The former speaker — who splits his time between Florida, Ohio and D.C. — has said in casual conversations that he thinks Ryan would be a good option if the party has not coalesced around a GOP candidate before the convention. Ryan's staff has recoiled at the notion, saying it was an "incredibly remote scenario," and the "speaker has no interest in it."

But Boehner has not said this publicly before.
Clearly, Ryan is open to the idea of becoming the nominee during the RNC convention…
House Speaker Paul Ryan decided not to run for the Republican presidential nomination in 2016, but he declined to rule out accepting it if a deadlocked party convention turns to him this summer.

"You know, I haven't given any thought to this stuff," Ryan said Tuesday night in an exclusive interview at the Capitol. "People say, 'What about the contested convention?' I say, well, there are a lot of people running for president. We'll see. Who knows."
Ryan, who was the VP running mate for Mitt Romney's disastrous race against President Barack Obama in 2012, has already been soundly rejected by voters across America. But that doesn't mean that he wouldn't gladly work with his fellow establishment Republicans to steal this election from the Republican grassroots.
The new Speaker's chair. pic.twitter.com/4xzMGuraXA

— Paul Ryan (@PRyan) November 1, 2015
What do you think about Paul Ryan possibly running for President? Please leave us a comment (below) and tell us!