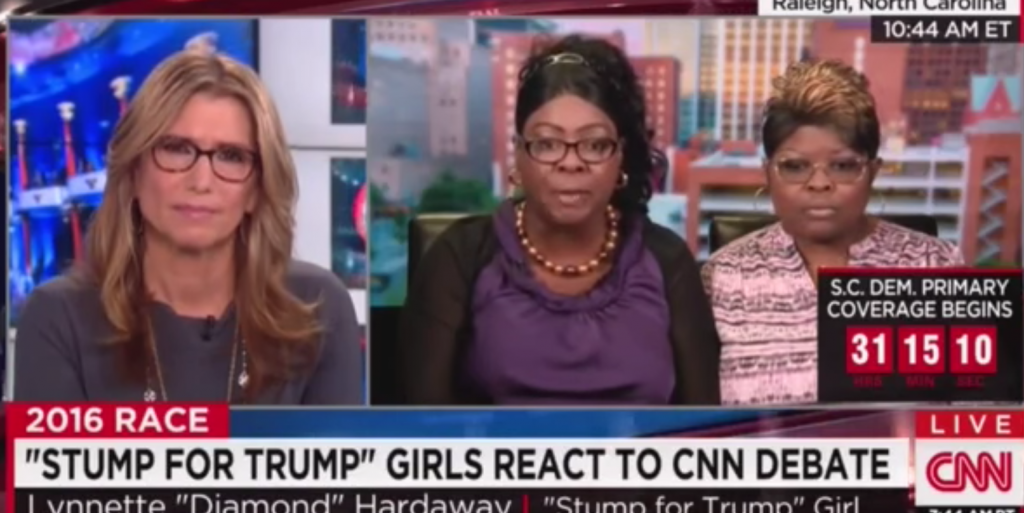 Diamond and Silk, two viral YouTube stars who are conservative Donald Trump activists, just dropped a major bombshell about Senator Marco Rubio (R-FL).
CNN interviewed the pair about Rubio's bold performance in last night's CNN debate. With Rubio trailing Trump even in his home state of Florida, he clearly knows this is his last chance to keep his campaign alive.
But what they said next left the host speechless! You have to watch this (below):
"Marco Rubio told us to Google Donald Trump, but I did one better, I Googled him," Lynette "Diamond" Hardaway told CNN on Friday morning.

"And when I Googled him — you know, he owes America and the gay community an apology, because it sounds like that he may have had a gay lifestyle in his past. So you have to be cautious when you tell people to Google people. Stuff will come up."
What happens when you Google "Marco Rubio" and "gay"? You learn details of Rubio's arrest which took place just before his 19th birthday. He was picked up by a cop for hanging out with his male friend Angel Barrios in an infamous gay-cruising park after closing hours.
Barrios went on to run Barrios Investment Group, which was sued for running a gay porn and online webcam website in a residential property!
The Washington post cautiously hints at the reason why Rubio would rather not talk about the arrest:
A local homeowners association's newsletter documented the complaints of neighbors: "Gang warfare, gunfire, prostitution (straight and gay), drug dealing and muggings." Police were attuned to the complaints because of a pattern of problems at the park, said Delrish Moss, a Miami police public information officer and a 32-year veteran of the department.

"It was very dark and had lots of trees," he said. "People went out there to smoke illegal substances, have sex, drink."

A full account of what led to Rubio's arrest and the dismissal of the charge are not included in available public records. The court file has been destroyed, according to Miami-Dade County court clerk's records.

According to the Miami police incident report, a police officer arrived at the park at 9:47 p.m., 10 minutes after being dispatched. The report notes that Rubio and two other teenagers were inside the park after hours. In a recent interview, Angel Barrios — one of the men arrested with Rubio — said they were sitting in a car when they were approached by an officer.

"We were there just hanging out," said Barrios, who owns several coin-operated laundries in the Miami area.

Barrios said he could not recall why they went to the park that night.

"We never even used to go to that area," he said. "That might have been the first time I went there."

Barrios was one year behind Rubio at South Miami High School. When they were in school together, Barrios said, Rubio and his other friends "were just messing around and partying.[…]
Someone's personal life should be no one's business but their own. But when you run for President, these type of embarrassing details matter because they can cause major problems, such as blackmail.
What is Marco Rubio hiding, and is this scandal a ticking time bomb in the GOP primary campaign season? Please leave us a comment (below) and tell us!