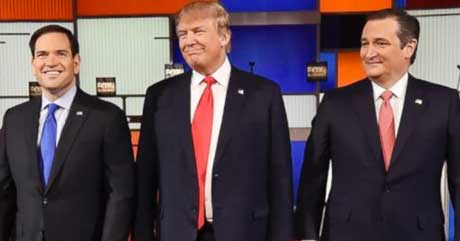 Republican voters are gearing up to watch tonight's Fox News Republican primary debate. After Super Tuesday and with many important primaries coming up, this debate is essential for any candidate trying to defeat Donald Trump at the last minute.
But Senator Marco Rubio (R-FL) appears to be ready to drop a bombshell! With no explaination, Rubio abruptly cancelled rallies in Louisiana and Kentucky.
Now, political insiders are speculating that Rubio is ready to get out of this race and perhaps throw his support behind fellow Senator Ted Cruz (R-TX).
As a major Kentucky newspaper noted, the Rubio campaign isn't giving details on why a rally was cancelled:
One day after winning only one of 11 GOP Super Tuesday primaries, Marco Rubio has canceled planned appearances in Kentucky and Louisiana.

Tyler Glick, a spokesman for Anne Northrup, Rubio's campaign chairwoman in Kentucky, said the campaign hasn't provided any more information about the cancellation.
Marco Rubio cancels Kentucky rally https://t.co/l7HzkxIQZI via @courierjournal

— Zeke Miller (@ZekeJMiller) March 3, 2016
And voters in Louisiana will also not be able to see Rubio in person.
After a poor showing in the Super Tuesday primaries, Marco Rubio quietly canceled his plans for a Baton Rouge event scheduled for Friday.

Individuals who signed up for tickets to see Rubio received an email Wednesday that the event was canceled.

"In order to use Marco's time as efficiently as possible before Saturday's contests, Marco will not be making a stop in Louisiana Friday night," the email read.

Rubio originally announced he would visit the capital city on Feb. 29. The event was planned for 5:45 p.m. at North Boulevard Town Square.
The cancellation happened so suddenly, the campaign is still registering people to attend the canceled rally.
Rubio, who has only won one state in the Republican primary has been the establishment candidate but has failed to gain traction in these final weeks.
Do you think Rubio is ready to drop out of the Republican presidential primary race? Please leave us a comment (below) and tell us.
Check out The Political Insider's 2016 Election Center to stay on top of the latest breaking Rubio news!