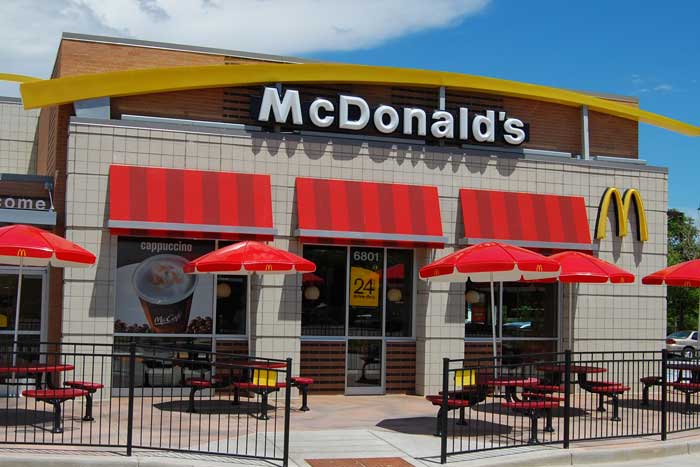 A Marine was trying to be left alone while eating food at McDonald's.
Christopher Marquez served 8 years in the Marines in Iraq and Afghanistan as a Scout Sniper and Rifleman. In addition, he received the Bronze Star for valor after he carried a deceased team leader away from the Battle of Fallujah.
But this Marine and American hero wasn't expecting what happened next… A group of black teen thugs surrounded him and asked, "Do you believe black lives matter?"
That's when things turned violent… HORRIBLE!
A former Marine became the target of an alleged assault in a McDonald's Friday night, as a crowd of youths cornered him and demanded he answer the question, "do you believe black lives matter?" Before knocking him unconscious and robbing him.

Christopher Marquez, a veteran of Iraq and recipient of the Bronze Star for valor, said he was dining at a McDonald's in northwest D.C. when a group of black teenagers came up to him and allegedly began harassing him about the black lives matter movement. Marquez ignored them which prompted calls and shouts that he was a racist.

Marquez left the establishment after eating, but allegedly sustained a sudden blow to the back of his head outside the McDonald's, which knocked him unconscious. When he woke up, his pants were ripped and wallet gone, which contained $400 in cash, three credit cards, his VA medical card, school identification, metro card and driver's license.

"I remember this group of teens harassing me while I was eating, they surrounded my table and kept on asking me 'Do you believe black lives matter,'" Marquez told The Daily Caller News Foundation. "Then they started calling me a racist. I can't recall if they were saying anything else to me at this moment because the blow to my head really screwed up my memory."
Via Daily Caller
As Marquez explained, he believes this was a hate crime, as he was targeted for his skin color. He opined, "Too many of these types of attacks have been happening against white people by members of the black community and the majority of the main stream media refuses to report on it."
His stolen credit cards were used by the thugs at a liquor store, a Walmart, and at Five Guys fast food restaurant.
How pathetic. The so-called "Black Lives Matter" movement is racist, violent, and protesting the same type of racism they claim to oppose. They are making judgments against people based on skin color, and encouraging violence.
This is not the color blind society that Dr. Martin Luther King Jr. dreamed of. Instead, this is Obama's America, where racism divides too many of us, resulting in hatred and violence.
Our Marines deserve respect, and all lives should matter. This type of bigotry and racism should never be acceptable… Yet this report went unnoticed by the local media.
What do you think of the assault of Christopher Marquez? Please leave us a comment (below) and tell us!